I was honored today to meet Chef Thomas Keller, the first and only American-born chef to hold multiple three-star ratings from the prestigious Michelin Guide (Total of seven stars). The chefs who enjoys cooking French but enjoys eating Japanese more. We had fun with him today in the kitchen learning different techniques, tasting (batters & creams) as we bake, and eating lunch at Bouchon 
تشرفت اليوم بلقاء الشيف توماس كيلير، الشيف الأمريكي المولد و الوحيد الحاصل على تصنيفات متعددة من ثلاث نجوم ميشلان (سبع نجوم ميشلان). يعشق الطهي الفرنسي و يعشق الأكل الياباني. استمتعنا معاه اليوم خلف الكواليس بالمطبخ و تعلمنا منه تقنيات مختلفة في المخبوزات و جربنا بعض المعجنات و الكريمات الخاصة و المعدة منهم و ختمناها بغدا لذيذ في مطعم بوشون في الغراند أڤنيو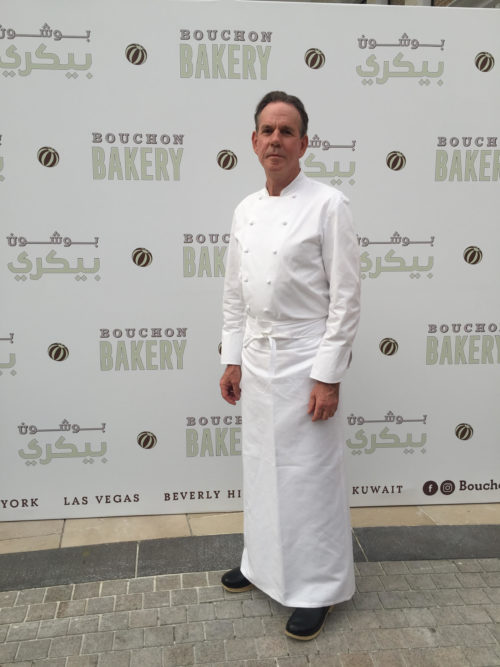 *Name: Thomas Keller
الإسم: توماس كيلر
*College degree: Self-taught chef 
التحصيل الدراسي: خبرة عمل 
*Star sign: Libra
البرج: الميزان
*Favorite meal of the day: Not a favorite, but I'd say the most consistent meal of the day is breakfast 
الوجبة المفضلة: لن أسميها المفضلة و لكنها الوجبة الأكثر اتساقا، وجبة الإفطار
*A spice you can't live without: Pepper 
البهار المفضل: فلفل أسود
*Easy recipe to share… with five ingredients max: 
Roasted Chicken – It's basically butter, salt (and pepper), and chicken! You can easily find it on YouTube 
وصفة سهلة تشاركنا فيها: وصفة دجاج الروستو الخاصة بي. مكوناتها زبدة و ملح (و فلفل) و دجاجة، الطريقة مصورة بالكامل على يوتيوب  
*A cuisine you like: French / Japanese 
المطعم/المطبخ المفضل: فرنسي / ياباني 
*Funny incident at work: It wasn't funny at the time, but now when you think of it… it was. It was at the time when we wanted to publish the French Laundry cook book, while cleaning the kitchen, the fire alarm went off and the whole kitchen was covered with foam!
موقف مضحك أثناء العمل: آنذاك، لم يكن الموقف مضحكا أبدا، و لكنه مضحك الآن عندنا أتذكره. كنا بصدد إعداد كتاب طهي لمطعم فرينش لاوندري و بينما كنا ننظف المطبخ، انطلق إنذار الحريق و غرق المطبخ كله بالرغوة
*Weirdest questions you've been asked: 
What's next?
سؤال غريب وجه إليك: ما التالي؟
*Entrepreneur tip or experience to share: Be patient and be persistence. Patience with your career! Be good at what you do. If you fail try again… just be persistence 
نصيحة تشاركنا فيها: عليكم بالصبر و المثابرة. كن صبورا في حياتك المهنية و كن متقنا بما تعمله. لا تيأس مع الفشل بل حاول مرة أخرى و بإصرار للنجاح