Pink Coffee! Well… it sure isn't a drink!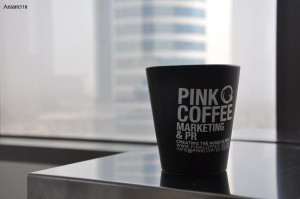 Pink Coffee is a Marketing & PR Company! They offer wide range of services meant to develop the local market and the region with innovative ideas, new concepts, and different approaches. They're not limited to filling the needs when it comes to serving their clients – hence the name, Pink Coffee, a new idea that inspires their purpose – creating the nonexistent!
Just like when you go into a coffee shop – there is a menu of different coffees to choose from! They created a cup of coffee for each service they provide! What have they done so far? ESCAPADE – The Proteges – Mutubtub + all their clients' projects and services! Oh and let's not forget that they worked on my new blog design and layout too 😀
Not only that, but I'm good friends with the owners+ and staff members 😉
Earlier yesterday, I got a sneak peek at their new office in Kuwait City!
An open space -minimalist design- office that is super white! Very clean look with an unfinished touch! Something I LOVE and appreciate very very much!
The office might be cozy with its common tables shared between its employees but it emits lots of positive energy and big potential…. Oh and there is also a lounge area used to meet and greet, brainstorm, and more (no pictures – its not completely finished)
And check out this happy face – Mr. Shamlan AlBahar – They were there all afternoon moving their stuff in the new office, tired as hell, fasting and all, but smiling! Oh and he clicked some of those pics with me too 😀
Thank you Shamlan and Dana for the tour! I wish you all the best 😀
For more, LIKE their Facebook Page, follow them on Twitter @pinkcoffee_ and check out their One Pink Coffee Blog 🙂