During Eid break we had few hours in Dubai before heading to the airport, and decided to pass by The Dubai Mall to have lunch at Cheesecake Factory! The wait time was ridiculously long (we were told it was about a couple of hours) so we decided to shop for an hour or so
After little shopping here and there, and for about a bit over an hour, we decided to head back since the pager range does not cover the whole mall, and waited just outside – it was about 30 more minutes till it was our turn, during which we met the General Manager, Megan who was super sweet and friendly!
As soon as I sat down memories rushed in! I cannot even remember when was the last time I had a meal at the Cheesecake Factory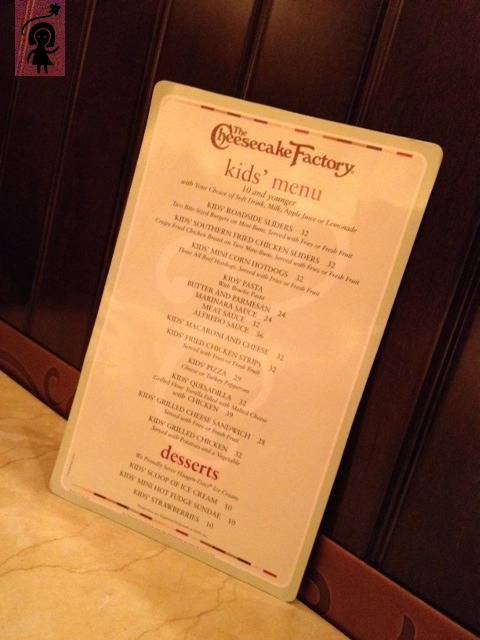 We were handed menus, during our waiting time, I guess everyone already pictured in their mind what they will be having (they also have kids' menus)
The place is so similar to the ones in the US! They did a great job bringing the whole atmosphere to Dubai, and we were told Kuwait's branch will be even bigger in size!!!
I will be focusing on my order rather than everyone else's since it was crazy time and we had less than an hour and half to eat and head to the airport! For drinks I ordered Mojito mocktail. It was very refreshing and much needed! I believe Fulla ordered the Passion Mojito, Mimmi and my parents wanted to have something with ginger-ale but the waiter got them cold apple cider!!!!
Then we got super fresh loafs of bread… the famous two loafs you would always get at the Cheesecake Factory; a sour dough and brown topped with oats! Fresh, fleshy, and hot out of the oven with butter <3
And it was a bit of a wait to get our appetizers; TexMex Eggrolls and Buffalo Chicken Strips
The presentation, the smell, the look, the taste, the texture… it is all almost the same (if not exactly the same) as the branches we tried in the US! Well done! The TexMex is full of flavors and it was SO GOOD! The chicken strips were so tender and the buffalo sauce on the side added that extra kick of spice to it
Then it was a bit of a wait to get our main dishes! The waiter kept coming to inform us that the orders were coming… and finally "Some" dishes arrived at the table…. first it was my mom's Salmon Salad! She did not like it much
and My dad's grilled salmon with mashed potatoes and steamed broccoli! My dad loved his dish a lot that he wanted to share it with everyone on the table lol
A little bit later Mimmi's order was on the table; Steak Diane – she said it was cooked to her preference and it was good, tastewise
Then we waited – Fulla and I, I think she ordered something with pasta and chicken (Chicken Piccata), I ordered the Americana Cheeseburger! It was like 15 minutes later that I talked to the manager! I ended up getting my burger – It was good and tasty, but the wait time was ridiculous! Everyone ate their meal at a different time… Not Fulla though! Anyways… back to my burger, it was HUGE, big, and juicy! The "secret sauce" in it added a special flavor! The sharp taste of cheese used was a good choice! It also came with french fries on the side
The manager (I do not know his name) was very polite and apologetic! He kept checking on us… apologizing for the messed up orders explaining it is only their third day of operations and first time outside the US, and he really was sincere about it! We ended up canceling Fulla's order (poor sis :* she munched on the appetizers and bread the most)… the manager later came and asked if we wanted to have it to go, but might need to wait a while… also offered any kind of dessert to go, but we were in a hurry! His solution was sending us the bill with half the items taken out!!
Our total came to AED234 (around KD18)! All in all, we understand that this is a newly operating restaurant opening for the very first time outside the US… it was also opened during Eid holiday which is a crazy time of the year in the region! The manager's reaction and sincere apologies were accepted and understood! Would I go again? Of course I will! I love the food there, and we understand it was just a bad timing! I actually cannot wait for the Kuwait branch to open 😉
If interested, you can drop by The Cheesecake Factory when in Dubai – its right next to the Aquarium 😉 Do not miss it